Crystal: So I'm guessing if you've been on AOL today you've seen this already...but just in case, pics from the upcoming Alice in Wonderland movie with Johnny Depp as the Mad Hatter have been released. :) :) Very Tim Burton-esque.
Link:
http://www.usatoday.com/life/l090623_alice_in_wonderland/flash.htm?gid=1057
Link:
http://www.examiner.com/x-13447-Hartford-Horror-Movies-Examiner~y2009m6d22-Tim-Burtons-Alice-in-Wonderland-new-photos-released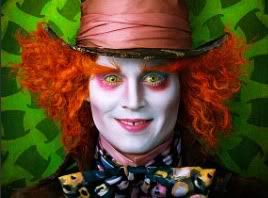 So are Johnny Depp and Helena Bonham Carter going to be in every Tim Burton movie going forward or what? I like the trio, but I'm starting to think it's getting a bit old...I'm not a huge fan of Helena's either....
What do you think?



Jen:

I am thrilled about this movie! I feel like I've been waiting forever for its release! It love Burton and Depp, and am okay with Carter (although she looks dreadful in this Alice adaption)

Check out this fan-made trailer: